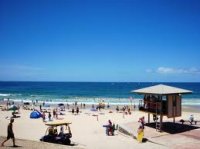 Kirra Surf Life Saving Club Date of visit 13th September 2011
Kirra is an iconic surf club at the southern end of Kirra Beach, just north of Coolangatta. Part of the old pavilion style building is a Pizza Hut restaurant, but we went to the Kirra Surf Life Saving Supporters Club upstairs above the surf club itself.
The club is expecting to be in a position to install a lift to facilitate disabled accessibility; they already have a toilet for disabled people.
We dined on the elevated verandah which has a retractable canvas roof which was not necessary on the beautiful day that we went and we were able to enjoy the excellent views of Kirra Beach and the coastline north to Runaway Bay.
The menu described the meal as:
Steak Burger – Turkish Bread with bacon, cheese, salad, BBQ sauce and chips. $16.50
The meal was promptly served and was well presented – the bread was toasted on the outside, but not the inside and it was buttered. The steak was gristle free sirloin cooked to medium, the salad was tomato, mixed lettuce and (yeah) beetroot. Overall it was pretty good and I liked the atmosphere of the place (basic and nostalgic, but clean and comfortable).
My business associate Jon had a grilled chicken burger at $16.00 and my friend and colleague Bill had Beer Battered Fish of the Day with salad and chips at $16.90. Jon praised his meal with the comment "very good – quite flavoursome", but Bill was less enthusiastic about his meal – he thought that it was OK, but nothing special.
This club is well worth a visit and we will be back.
I welcome your feedback and if you want to cast a vote for Kirra, please go ahead.
Darryl
Kirra Surf Life Saving Club www.kirrasurfclub.com.au
15 Marine Pde Kirra Qld 4225 Phone: 07 5599 5086
Posted By darryl on Tuesday 20th December 2011 @ 08:48:25
Updated : Saturday 24th December 2011 @ 12:14:55 | Words : 333 | Views : 4772 | Comments : 0
© Gold Coast Family Car Rentals Since 2011


This section provides information as to what is on the Gold Coast each month. We try to give you an idea of the weather, what is on, things to do and places to go - it is a mini-guide to assist you in planning your activity during your Gold Coast holiday.
Topics -2 | Comments 0
Updated Thursday 16th May 2013 @ 15:55:17
---
With this section we intend to provide a series of articles designed to help you get the most out of your car rental experience whether you are renting from us, from someone else on the Gold Coast or elsewhere. We hope to show you how to avoid the pitfalls and how to get the best value.
Topics 2 | Comments 7
Updated Friday 17th May 2013 @ 18:23:13
---
When we first came to live on the Gold Coast we decided with our friends Peter & Fennis (who live in Brisbane) that we would have lunch at every one of the 17 surf clubs on the Gold Coast with dining facilities. Well, it didn't happen and we probably have only done three of them together, but since deciding to produce a blog, I thought that I would resurrect the plan of having a regular lunch at different clubs.
Topics 6 | Comments 0
Updated Thursday 29th December 2011 @ 15:34:26
---
Blogger : darryl

. . .
Registered Since Wednesday 26th October 2011
Topics : 10 | Comments : 0