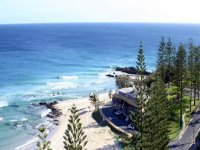 Date of visit 25th August 2011

This is the most southerly of the Queensland surf clubs, facing north and providing panoramic balcony views from Snapper Rocks to Runaway Bay. Built in 1962, the building is old fashioned and basic, housing both the lifesaving (ground floor) and social club (upstairs) areas. The interior of the club is clean, comfortable and casual.

There is no disabled access (planned to be available about the end of 2012), so there is a bit of a climb (18 stairs) to get in, but Denise who always uses lifts when available, went up and back down again without any trouble.

It is the home of the Quicksilver & Roxy Pro surfing event and the champions from 2002 to 2011 are honoured on the stair rises leading into the upstairs bar and dining area. There is a lot of surfing memorabilia displayed throughout the club, adding to the casual atmosphere.

Even though no steak sandwich was shown on the menu that was on their website, there was one on the in-house menu, described as:

Steak Sandwich 200gm char grilled to your liking with lettuce, cheese, tomato, and beetroot on a toasted bun. Served with hot chips $18.50

Denise ordered Calamari rings, hand cut and panko crumbed with chips; salad, tartare sauce and lemon wedge $14.90

Our meal was served without any delay beyond actual cooking time and the first thing that I noticed was that the bread was "properly toasted" (I despair of under done toast). They supplied me with a steak knife and the steak was cooked as I had ordered (medium rare).

The sandwich came with a very light barbeque sauce and a side bowl of tomato sauce which I used with my chips.

Whilst I appreciated the generous 200gm serving of steak, I would have preferred it to be cut a little bit thinner as I love to eat my steak sandwich as a sandwich held in my hands, not as a "knife and fork" meal. However, it was a juicy and tender steak with excellent flavour and presented no real hardship for me to eat it "my way".

I asked Denise if she enjoyed her meal, she said that she did. When I asked her if she would consider ordering the same thing the next time she visited the club, she said that she would be happy to do so. Good enough "wrap" in my book.

We made ourselves known to management after we finished our meal and the duty manager Justin suggested that next time, I should try their Chicken Parmagiana which he described as "huge" and the best on the coast – but that is another blog altogether.

I don't yet know where this stands on the "best" steak sandwich, but I'm guessing it will be a finalist. The views from Rainbow Bay may well be the best on the Gold Coast, I think that there are only 3 rivals, but time will tell. If you can't make lunch, come and see the sunset.

I welcome your feedback and if you want to cast a vote for Rainbow Bay, please go ahead.

Darryl

Rainbow Bay Surf Life Saving Club
http://www.rainbowbayslsc.com/

2 Snapper Rocks Rd Coolangatta QLD 4225 Ph: 07 5536 6390
Posted By darryl on Thursday 27th October 2011 @ 03:44:23
Updated : Thursday 15th December 2011 @ 09:10:17 | Words : 594 | Views : 1014 | Comments : 0
© Gold Coast Family Car Rentals Since 2011


This section provides information as to what is on the Gold Coast each month. We try to give you an idea of the weather, what is on, things to do and places to go - it is a mini-guide to assist you in planning your activity during your Gold Coast holiday.
Topics -2 | Comments 0
Updated Thursday 16th May 2013 @ 15:55:17
---
With this section we intend to provide a series of articles designed to help you get the most out of your car rental experience whether you are renting from us, from someone else on the Gold Coast or elsewhere. We hope to show you how to avoid the pitfalls and how to get the best value.
Topics 2 | Comments 7
Updated Friday 17th May 2013 @ 18:23:13
---
When we first came to live on the Gold Coast we decided with our friends Peter & Fennis (who live in Brisbane) that we would have lunch at every one of the 17 surf clubs on the Gold Coast with dining facilities. Well, it didn't happen and we probably have only done three of them together, but since deciding to produce a blog, I thought that I would resurrect the plan of having a regular lunch at different clubs.
Topics 6 | Comments 0
Updated Thursday 29th December 2011 @ 15:34:26
---
Blogger : darryl

. . .
Registered Since Wednesday 26th October 2011
Topics : 10 | Comments : 0