In my previous post, I revealed that we have not stopped the importation of the virus overseas, with almost 80% of our new infections in June being contracted whilst overseas. This is not "I got it from someone who got it when they were overseas", it is "I was overseas and contracted it there and then came to Australia!"
Clearly, the bureaucrats are not doing their job.
I also pointed out an inconsistency between two sources of the same information (currently active cases) where the major medium for this information showed 466 active cases and a more detailed analysis in another report showed 456 active cases.
Well, I have another example to share with you, this time the error is within the same report.
This is a reproduction of the infographic daily summary issued by the Australian Dept. of Health in respect of Aged Care Facilities as at 6th June.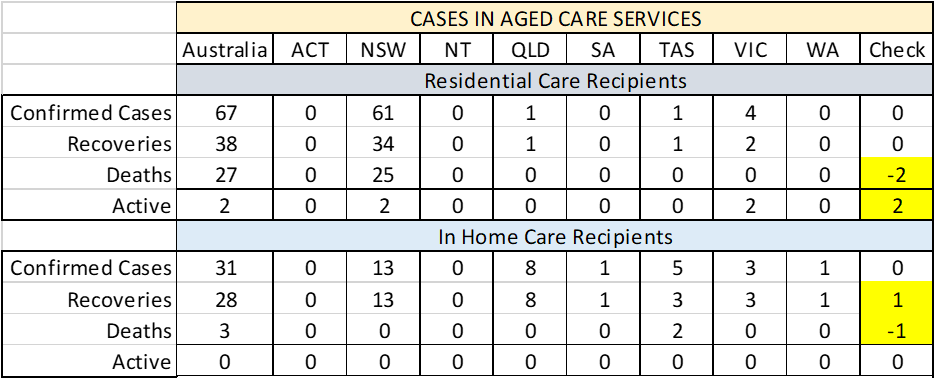 The "Check" column is my addition, it simply adds the state and territory data and compares it to the data shown for Australia. You will see that either the total residential care deaths for Australia are overstated by two, or the state/territory information is understated. Similarly, the deaths for In Home care are either overstated nationally or understated across the state/territory section.
In-Home Recoveries doesn't match and according to the data NSW has two active cases in Residential Care as does Victoria, but the total for Australia is only two. These discrepancies have been in existence in every daily report since 10 May, without any correction.
I know that it is only a small detail, but if they come up here with a sum that says 2+2 =2, then where else are we getting misinformation?
We should at least expect the basic arithmetic to be correct, given the big bucks we pay these people!
The data provided at 27 June suggests that the only current cases are 2 Tasmanian Home Care Recipents; the total deaths were 33 and total cases were 102.
Here is my overview of three of our most infamous COVID clusters.
Cedar Meats Abattoir:
This is Victoria's largest COVID-19 cluster with 111 detected cases. The first case was diagnosed on 2nd April, an employee who had not been at the premises for some weeks. The 2nd case was diagnosed on 24th April, the 3rd on 25th April and the 4th case was diagnosed on 27th April.
Victoria Health has asserted notification to Cedar Meats on 27th April, but Cedar Meats claim they were not made aware of the case until 29th April. when they were informed of all four cases. Victoria Health has claimed that they did not notify Cedar Meats on 2nd; 24th or 25th April because of their requirement to keep individuals health records confidential.
The premises were ordered to be closed on 29th April but were granted permission to operate for another two days to process stock. By early May, the number of cases ballooned to 34, and steadily rose until 21st May when the tally reached 111 cases.
The Cedar Meats cluster became political when there was a furore over Victoria Health's refusal to name Cedar Meats as the business central to the cluster, after naming a school where a single case had been reported.
The Victorian opposition dubbed the cluster as "Victoria's Ruby Princess" and demanded an inquiry into the outbreak's origins. The Health Minister defended the government's response, saying it had been handled "perfectly". A week later, Victorian Chief Health Officer Brett Sutton said that, given the chance again, he would have shut the Cedar Meats abattoir earlier.
Doesn't sound like the government and its bureaucrats covered themselves in glory with this matter.
Newmarch House:
This Western Sydney Aged Care Facility, owned by Anglicare, commenced a "no visitors" lockdown on 23 March. Apparently, some temperature checks were carried out on an ad hoc basis on staff from 30th March.
The outbreak occurred after a staff member worked for six days up to 6th April "while symptomatic and infectious". It seems that the staff member and a resident had tested positive for COVID-19 on 30th March, with another resident awaiting test results. Anglicare's chief executive stated that the relevant staff member did not disclose that she was unwell and did not display any symptoms.
By 14 April, six staff members and four elderly residents were infected.
In a newspaper article dated 15 April on this matter, I read the following: "Currently in NSW any healthcare worker who has a fever or respiratory illness is eligible for Covid-19 testing".
It may only be the reporter's wording, but "is eligible" really worries me. Surely the minimum standard for any correct policy is that anyone who has a fever or respiratory illness must be mandatorily tested and quarantined pending the outcome. I have emphasised "anyone" to show that I don't believe it should be restricted just to healthcare workers.
The tally at Newmarch House now reads 71 infections and 16 deaths.
I read an excellent article by Deborah Snow in the Age, dated 16 May, covering the Newmarch House situation where she reported that Anglicare's CEO Grant Millard said that if he had his time over again, he would not have followed NSW Health's protocol for Aged Care people to be treated under their "Hospital-in-the-home" program, but would have sent them all to hospital.
The same article has a NSW Health spokesperson defending their treatment protocols, pointing to nationally agreed guidelines which state there will be transfer of residents to hospital "only if their condition warrants".
With 14 of the 16 deaths occurring inside the Newmarch premises, it's difficult to imagine that the condition of many residents failed to "warrant" transfer.
A future federal enquiry may unravel the Newmarch House tragedy and set clearly defined strategies which are flexible enough to be adapted to suit individual circumstances.
My own opinion on Aged Care facilities generally is that surely these places are the most vulnerable places in the country for any viral infections. The residents are the most likely people in the country to succumb to an infection and because their underlying health weakens their antibodies, they tend to have more severe infections and are thus more likely to become transmitters as well as just victims.
All aged care facility residents should be regularly tested for infection and if the test shows as positive, they should be immediately transferred to a hospital – no exceptions. Similarly, staff members should be constantly and compulsorily tested to ensure that they are not capable of inadvertently infecting any other staff member or any resident.
I can't understand why this has not been the case from the very start.
Ruby Princess:
This is the most infamous of all COVID-19 clusters with at least 696 cases in Australia, resulting in 22 deaths; plus at least 16 additional cases in New Zealand.
The disembarking of 2,700 passengers in Sydney prior to the completion of testing has turned into an inter-departmental blame game and has now sparked a Special Commission of Inquiry into the entire handling of the management of the incident. Passengers were allowed to prematurely disembark so that they could catch connecting interstate and overseas flights.
The Special Commission hearing has uncovered astounding examples of incompetence amongst almost every Federal and NSW authority involved in the handling of the matter as well as the ship's management. The hearing is ongoing with its report due in August.
This is an excellent chronology of events in a Guardian article called:
Anatomy of a cruise: how the Ruby Princess came to dock and disembark with coronavirus
Here is the Timeline of 'open' confirmed cases, recoveries, and deaths that I want you to see.
The opinions expressed in this article are my personal opinions and the information that I have provided within the article is, to the best of my understanding, factual. I respect the right of others to have differing opinions. Any errors or inconsistencies are entirely my fault.
Posted By darryl
Updated : 22nd June 2020 | Words : 1324 | Views : 765
Comments
---
Family Car Rentals
Reviewed
on Google by 192 People. Rated 4.3/5