The matters contained in this article affect every other COVID topic that I discuss.
You will see where one state "guessed" the daily number of tests conducted. You will see where the number of tests reported by one state for a single day was over 18,000 fewer than for the previous day. You will see where another state reported almost 50,000 tests in one day where their largest day before or since was under 7,000 tests.
You will see that the Federal Government as at 25th June reported that the total number of "active" cases was 512; whereas the total reported by individual states and territories was just 174 cases.
So, here we go:
The world-wide COVID-19 response began with rumours and innuendo, suggesting the likelihood of laboratory origins of the virus, leading to wildly exaggerated predictions based on computer modelling with no scientific basis.
Australia's first COVID-19 case was diagnosed on 25th January and our first confirmed death was on 1st March. As a communicable disease, the daily count of new cases had the attention of all Australian governments and their health officials, but they became really concerned by the rate of escalation around 9th or 10th March.
On the 16th March, the Australian government was presented a computer model report which predicted that up to 60% of Australians (15 million people) would contract the disease and up to 150,000 of them would die.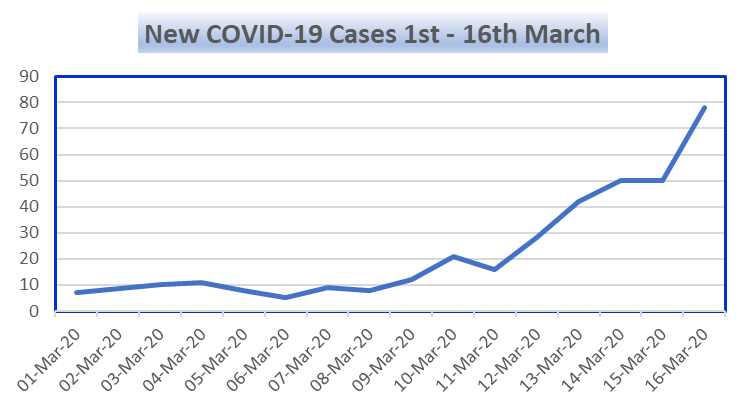 Given a ten-fold increase in the number of daily cases within little more than two weeks, and given that other countries were being presented with the same frightening computer modelling, the national cabinet had little choice but to move quickly and hard to slow down the exponential spread of the virus.
The Australian government declared a human biosecurity emergency the next day, banning indoor gatherings of more than 100 people and raised international travel advice to "do not travel".
Of course, that original modelling has since been universally debunked!
But it is not the only erroneous information that we were expected to rely on.
Another hugely erroneous "expert" analysis, which had been updated on 19th March, was presented to the national cabinet predicting that Australia would run out of ICU beds when the number of cases reached 44,580 and that number will be reached between 7th and 9th April - a mere three weeks after the report was presented.
Obviously concerned by this alarming prediction, the government moved to ease the strain on medical resources by "pausing" elective surgery, announcing on 23rd March that all non-urgent elective surgery would be suspended as of 1st April.
This was wrong on many levels:
On 18th March, there were 113 new cases reported, making the total Australian case numbers to 567. The prediction envisaged a climb of 44,000 cases in 21 days, averaging 2,095 new cases per day.
By 1st April (the date of implementation of the ban) it had become very clear that the daily number of cases was decreasing, consistently declining from 25th March .
The model assumed 2,229 ICU beds in Australia, but on 30th March the Medical Journal of Australia claimed a capacity of 6,660 ICU beds in Australia.
The "pause" is estimated to have added 400,000 cases to the already existing elective surgery waiting list, casting doubts on getting back to "normal" before 2023/4.
On 8th April, there were only 81 COVID patients in ICU units, yet we still delayed the reinstatement until 27th April for some procedures and 11th May for others.
Most of the statistical information that I see is through two websites, Daily COVID-19 Health Alert and COVID-19 Data. One of these reference sources enables the calculation of total active cases as at the last reporting day but does not show the number. The other source shows the number of active cases as at each day since 16th March and also has that data itemised by source of infection as at each day since 21st April.
As at 6th June, there was a discrepancy of 10 cases between the summary that we are given each night on television (460 cases as at 6th June) and the detailed "by source of infection by state/territory" (450 as at 6th June).
I have compared these two different results for the same matter back to 11th April. From 11th to 30th April, the figures were out of whack with each other on the first 10 of the 20 days and in sync with each other on the last 10 days. There has only been one day since 30th April where the two sets of figures have the same total, the largest single day variance being 410.
Every day, data is supplied about new COVID cases, sorted by source of infection.
Each new case is classified as one of the following:
Overseas acquired
Local: known contact confirmed
Local: unknown contact
Under investigation
The process is that cases may well be classified as "under investigation" and then subsequently be moved to one of the other classifications. This means that "under investigation" may often have negative new cases (transfers out being more than new cases in) and "Local: unknown contact" may sometimes have negative new cases as the unknown source becomes known.
On 8th June, the number of new cases for "Overseas acquired" was recorded as minus 9 and the number of new cases for "Local: known contact" was recorded as minus 2.
If the data being fed into each category is only moved out of uncertain origin when it is confirmed as being relevant to one of the certain origins, there can't possibly be any negative numbers in the first two categories. So "confirmed" to the record keepers doesn't mean what it normally means!
Furthermore, the daily report issued by the Federal Dept of Health and used by all news sources shows (amongst other data) the cumulative number of COVID-19 tests conducted by each state and territory. I have monitored this data since 11th April and have detected the following "suspect" data in respect of tests.
Whilst all other states and territories have consistently reported absolute numbers of tests, Victoria used whole thousand numbers as guesses until 28th April, when they finally declared a definite number (104,000 on 27th; 109,049 on 28th). But the doubt as to the accuracy of information continues, with the Victorian total tests up to 5th June reported as 542,958 and up to 6th June the total number dropped overnight by over 12,000 to 530,816 – with no explanation. Subsequent investigation discovered that 12,142 negative tests had been duplicated in previous reporting. This saga continues, the total number for Victorian tests up until 7th June was initially reported as exactly the same number (542,958) as 5th June but was subsequently changed.
Between 1st and 21st June, Queensland's reporting of daily new COVID tests reflected a total of 79,251 at a daily average of 3,744 tests. Are we really expected to accept, without question or explanation, that the very next day, 49,207 tests were conducted, but the day after that (23rd June), the number of tests reverted back to a "more normal" 3,635?
We know that a daily count of over 49,000 tests can't possibly be correct, but we didn't know whether somebody accidently slipped in an extra digit, or whether it is the correction of significant and systemic under-reporting over a long period. Well, on 3rd July, we found out (from non-government sources) that 38,500 tests conducted by a private pathology provider had been omitted from previous data.
It still means that the other 10,707 QLD tests for 22nd June are pretty much double the total for any day before or since, but we don't know why.
Are we also expected to believe that the Northern Territory's test count over the five days to 23rd June was 155; 174; 116; 33 and 312? Western Australia did not report any test numbers for 16th and 17th June, with a "spike" on 18th June, and it has failed again to make any report for 27th or 28th June. It seems that the WA test count staff had another "weekend off" on 4th & 5th July showing a "nil" count for both days - yet another dodgy data example.
We have learnt that some states and territories are reporting the number of people tested, whilst others are reporting the number of tests conducted (presumably the difference is follow-up, or 2nd testing). These two variants will inevitably produce different results, but if we don't know which is which, it's just more data that can't be properly analysed. We have learnt that Victoria changed their reporting from "people tested" to "number of tests" on the 27th May, with additional cases somewhere between 20,000-30,000 were added to the tally, without any comment.
The number of "active cases" (total cases, less recoveries, less deaths) in Australia peaked at 4,909 on 6th April, but by 11th April (the day when I believe we should have begun relaxing the restrictions), the number had dropped to 2,980 and continued to drop steadily during April, ending that month with less than 950 current cases.
This is a graph of active cases from 1st May, showing a steady decline until 11th June when the number of cases dropped dramatically.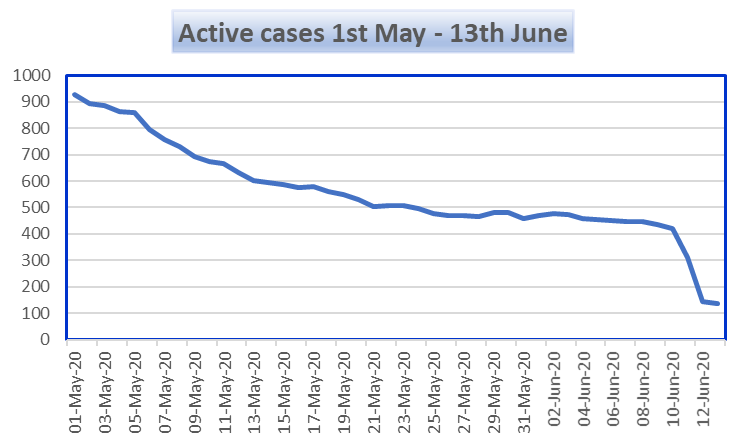 The drop was caused by NSW reducing their count by 253 cases; removing from the count any cases which were more than 6 weeks old and not reported as a death or recovery. There was no information to explain why this happened in two instalments, instead of just one. NSW made a futher change to their reporting methodology on 25th June, reducing the open case time from 6 weeks to 4 weeks, knocking another 90 "active" cases out of their count.
Incredibly, the national data has not been adjusted to reflect this change - as at 25th June, the national data showed 512 active cases whilst the adjusted figure should have been 174. Equally concerning, the deleted numbers have not been added to the recoveries total, thus the corrections of the active cases dodgy set was at the cost of making the recoveries set dodgy.
Given the rise in new cases experienced in Victoria from 14th June, I monitored the data as at 22nd June - total cases and total deaths for both reports were in sync; with 7,474 case and 102 deaths. Active cases are shown in the Federal Government daily summary as 469, whereas the adjusted count was 221. The "official" Recovered case count showed 6,903, with the adjusted count showing 7,151 recoveries. Still no correction - national figures for 28th June show 589 open or "active" cases, the individual state/territories' reporting shows a total of just 245 (7 in NSW, 2 in QLD, 4 in WA and 204 in VIC) - a variance of 344 cases!
Every day since 10th May, the data provided in respect of deaths and recoveries in Aged Care Facilities has a mismatch between the sum of individual states & territories and the total for Australia. Either the total recoveries are understated, or the total deaths are overstated, or one or more of the states has got it wrong - who knows?
The collection and dissemination of COVID data is the responsibility of the Chief Health Officer of each state and territory. This data is what they make their decisions on - in respect of marshalling resources, imposing, or lifting restrictions and closing or opening borders. It is also the data that we report to the rest of the world.
The Australian public has a right to expect, nay demand, that this data is correct. Well, these highly paid bureaucrats that have been granted the power to control our financial well-being as well as our health, haven't been able to get unity in any endeavour.
The simple task of daily reporting of new cases, deaths, recoveries, tests, hospitalisations etc. is flawed, with Tasmania reporting each evening the data obtained up until 5pm that day, whereas all other jurisdictions report data today which is relevant to yesterday. The federal government reports cases according to residency, whereas other jurisdictions report by location, but for some reason, this gets changed every now and then.
The COVID-19 website that I use each day reports that since 23 May "federal figures are irreconcilable with remaining active cases in Western Australia and Queensland".
The "as at" reporting time of each day has been varied on several occasions, thus understating or overstating some particular day's activity.
It took until 5th April for all jurisdictions to report "recoveries", but there are vast differences between the procedural determination of recoveries within jurisdictions:
VIC seems to treat cases as "recovered" 10 days after notification unless there is contrary information.
NT says a patient must return two consecutive negative tests.
ACT, SA, and WA assess each patient by interview and then make their determinations according to "national guidelines"
QLD seems to treat cases as "recovered" 10 days after notification unless there is contrary information.
NSW apparently had no mechanism for unreported recoveries until they decided on 11th & 12th June to remove 253 "active" cases which were more than 6 weeks old without any contrary information, but these cases have not been added to Recoveries. NSW has since reduced the count by a further 90, now eliminating all cases more than 4 weeks old without any contrary information.
On 17th June, the Queensland Health website novel coronavirus (COVID-19) update shows regional records as including the following bewildering outcomes:
| | | | | |
| --- | --- | --- | --- | --- |
| Region | Active Cases | Recovered Cases | Deaths | Total cases to date |
| Cairns & Hinterland | 0 | 36 | 0 | 37 |
| Gold Coast | 3 | 196 | 0 | 196 |
| Metro North | 0 | 312 | 3 | 317 |
| Metro South | 1 | 263 | 0 | 266 |
| West Moreton | 0 | 38 | 0 | 39 |
A grade-three maths student could tell that the final column must equal the sum of the preceding columns, otherwise it is gibberish.
We know that the first row below (as shown in the report in respect of the Gold Coast) can't be correct, but we don't know which of the three alternatives is the correct summation:
| | | | | |
| --- | --- | --- | --- | --- |
| Gold Coast | Active Cases | Recovered Cases | Deaths | Total cases to date |
| What the report says | 3 | 196 | 0 | 196 |
| Should it be this? | 0 | 196 | 0 | 196 |
| Or this? | 3 | 193 | 0 | 196 |
| Or this? | 3 | 196 | 0 | 199 |
The litany of errors continues, the Federal Health daily update shows total cases by source of infection – for 18th June, the total is 7,370. Immediately below this table is cases by source of infection for each state and territory, the total of this table is 7,391.
Sadly, it appears that those charged with the responsibility of reporting these things to the nation are either mathematically inept, or they simply don't give a damn about the job they are supposed to be doing.
There seems to be no media interest in the detail, just the headlines, but it is the detail which creates the headlines!
These fundamental errors say a lot about the lack of attention to detail given to the information disseminated to the public and used as the basis of important decision making.
Dodgy data leads to dodgy decisions which cause unnecessary hardship and concern for many people.
Here is the Timeline of 'open' confirmed cases, recoveries, and deaths that I want you to see.
The opinions expressed in this article are my personal opinions and the information that I have provided within the article is, to the best of my understanding, factual. I respect the right of others to have differing opinions. Any errors or inconsistencies are entirely my fault.
Posted By darryl
Updated : 22nd June 2020 | Words : 2576 | Views : 1622
Comments
---
Family Car Rentals
Reviewed
on Google by 192 People. Rated 4.3/5