We all know that the COVID-19 virus, like most of its cousins, survives better in a cooler climate and indoors rather than outdoors. It follows then that, provided you follow social distancing recommendations, just about the safest places to be would be at the beach, in a park, fishing on a lake, or on a golf course.
Yet the highly paid medically qualified bureaucrats who seemingly overnight turned into ideological zealots ruled that these places were cesspools of contamination. The guardians of the nation's health became the fun police.
The community had every right to expect that whatever rules were created in the name of containing the exponential spread of the virus, would have some biological credibility.
I acknowledge that in the uncertain times from 16th March, fanned by what has since been proven to be absurdly exaggerated predictions, our governments had no option but to exercise "an abundance of caution" (as the advisors continued to describe it).
We can forgive them for being perhaps over-cautious in the very uncertain and stressful early days, but by 11th April, the sheer panic should have ended.
On that date, we had only 240 COVID-19 patients accommodated within 1,350 hospitals in Australia and only 80 of the actual 2,378 ICU beds (potentially 6,660 with surge capacity) were occupied by COVID-19 patients. With only emergency operations being performed, it was a safe bet that the television images that we saw of empty hospital beds represented factual reporting.
On 12th April, the daily rate of new cases reduced by 50% from the previous levels, through to the 20th April when it fell by another 50%.
Yet the "experts" were still telling us that if a person died leaving a partner and more than three children or grandchildren, the family would have to conduct a ballot to determine who could go to the funeral. We even had the completely unnecessary and distasteful episode of Victorian police officers entering a chapel during a funeral service to count the number of mourners.
The last time that we had more than 20 new cases in a day was 19th April, yet no child could march wearing the grandfather's medals on ANZAC Day, no community groups could march, no serving personnel could gather in respect for their fallen comrades. There is no doubt that traditional local ANZAC ceremonies could have been held without any possibility of infection – they are very solemn events and social distancing could have easily been policed.
To not maintain ANZAC Day (without the two-up and the pub gatherings) remembrance ceremonies was a betrayal of the sacrifices that those who fought for our country had made.
I visited a shopping centre and saw a bench seat which must have been 4 metres wide, with a sign stuck to it saying, "only one person at a time". If my wife of 54 years wanted to sit on that seat, I would not have been able to sit with her.
We all saw the television footage of NSW police officers driving patrol cars over the grass in a beach-side park and ejecting a man who was lying on his stomach reading a book and listening to music through his earphones – but there was no one within 20 metres of him – so why hassle him?
We witnessed Victorian Premier Daniel Andrews explain that his desire to have a game of golf, was not worth another person's life. Apparently, he has no idea that even without COVID restrictions, golf has its own distancing rules – a swinging golf club is an excellent deterrent to being inside a 1.5m distance from another person and with only four people in any group, the "personal space" can be more like 10,000sqm per person – not 4sqm. The only change golf needed anywhere in Australia was to mandate only one person per cart.
Again, we all saw the picture of the Victorian police surrounding a homeless woman in a park. It seemed lost on the officers concerned that they were there to police "social distancing".
We had a massive ongoing debate about whether schools should be open or not. The National cabinet health sub-committee (comprised of the Chief Health Officers of the Commonwealth and of each state and territory) all initially agreed that schools were safe. But as soon as they were back in their own domain, schools started to be closed all around the country on their orders.
The Federal Treasurer said that the closure of schools affected about 300,000 jobs, but that didn't matter any more than the science matters.
The Queensland Chief Health Officer Dr Jeanette Young rubbed salt into the wounds when she subsequently said that she knew all along that schools were safe, but she told the Premier to close them in order to send a message to the public, that they were really serious.
Should tens of thousands of jobs be the price of sending a message?
There were several examples of infuriatingly stupid decisions about the timing of lifting restrictions, including Victorians not being able to visit their mothers on Mothers' Day, but it was OK to go and see her the very next day. A similar example was the increase in NSW church congregation sizes from 10 to 50 people, starting on a Monday, instead of the day before.
On this matter, I recall someone commenting that 11 people could get on a 115 passenger capacity bendy bus at Circular Quay and if they all got off at St Mary's Cathedral, (which is about 80 times the size of the bus), one of them would have to miss out on going into the church.
Another Daniel Andrews classic was that he realised that opening up a restaurant for a maximum of 10 people may not be financially viable for some restaurants, so he decided not to open any at all for another couple of weeks when they might then be able to lift the permitted patrons limit to 20.
Then there were the instances of politicians and bureaucrats effectively saying; "Do what I say, not what I do", with breaches of social distancing and travel restrictions being regularly reported, including senators attending the "Black Lives Matter" demonstrations.
The Queensland government decided that it was a COVID health risk for people to swim at Surfers Paradise or Coolangatta beaches, but it was OK to swim at Kirra, Burleigh, and other Gold Coast beaches. NSW reacted the same in respect of some, but not all, of their Sydney beaches.
There are overhead electronic messaging signs on the Pacific Motorway in the Gold Coast area (as there are in many parts of Australia). Since the end of April, one of the most common messages is "COVID-19 Get the flu shot".
I firmly believe that everyone should get a flu shot every year, but I know that, as it will not do anything for you in respect of COVID-19, there cannot be any biological credibility in the message. It is completely wrong to mix a flu message into a COVID message and the sign wording should be changed.
In my mind, the most illogical restriction is also the least publicised – the restrictions on doctors being able to order COVID tests on their patients.
Western Australia's AMA President, Dr Andrew Miller was reported on 10th May as saying, "doctors couldn't order tests for asymptomatic patients who didn't fit the screening criteria" and "They could not screen patients at mental healthcare facilities unless they had cold or symptoms".
All states and territories have "eligible" criteria for COVID testing, but apart from healthcare and other high exposure workers, there is no allowance to test the general public unless they exhibit suspect symptoms.
This might have had some legitimacy in the very early days where we were desperate to conserve as many resources as possible, but since 1st May (possibly since mid-April), we had had plenty of test kits to ensure that there is no need (other than the cost of the test) for denying doctors the right to order tests if they feel the tests are justified.
South Australia and Western Australia have even legislated for fines to be applied against doctors who wish to have their patients tested.
I note that NSW is lifting standard numerical limitations on cafes, pubs, restaurants, and churches on 1st July, replacing them with a requirement to observe the 4Sqm per person rule. This rule at least has some biological credibility, but it should have been the basis of limitation of such places from the very start, or at the worst, from the end of April when the pandemic was inarguably manageable.
My only other comment on this is "Why 1st July? What's wrong with tomorrow?"
I wrote the line above on 12th June, but on 14th June, I saw on TV something that I have been crying out for almost the whole COVID lockdown period. That was the announcement of a limitation of numbers attending a funeral was removed with "immediate" effect. Hooray for finally some sanity in the name of compassion. But why not a month ago?
I have despaired of "this will happen on such and such date", "that will happen on another date", with no explanation as to why it is not today, tomorrow, in three days' time, or why the nominated date was selected.
The bureaucrats and politicians who are running the show are not clairvoyants, they can't tell what the actual COVID situation will be in three or four weeks' time, but I am sure that they have picked a date where they deem it to be "safe".
So why not tell us what the "safe" criteria is for each announcement, surely there is no harm in actually confiding in the populace, after all, we are constantly told that "we are all in this together".
Well, it seems that they have decided to adopt some basis for the determination of progress, it has just been almost completely unpublicised. At the very commencement of the COVID pandemic, the methodology was outlined in a document called Australian Health Sector Emergency Covid-19 Response Plan.
This document contains the following information in respect of the "Standown" stage of the pandemic management plan:
Standdown stage Individual activities will be regularly assessed and stood down when they no longer contribute to the COVID-19 Plan's goals of the outbreak response. The trigger for the COVID-19 Plan response as a whole to move into the Standdown stage will occur when advice from CDNA indicates that the novel coronavirus outbreak has reached a level where it can be managed under normal healthcare arrangements.
On 19th June, Rachel Baxendale wrote in The Australian: "The Australian Health Protection Principal Committee has previously indicated it is using a non-quarantine ­infection rate of fewer than 10 new cases per day nationally as a rough benchmark to determine the timing of the further easing­ of restrictions".
The following chart shows the reported daily confirmed new "non-quarantine" cases for Australia from 1st to 19th June. The orange line is the "target" of 10 quoted in the newspaper article.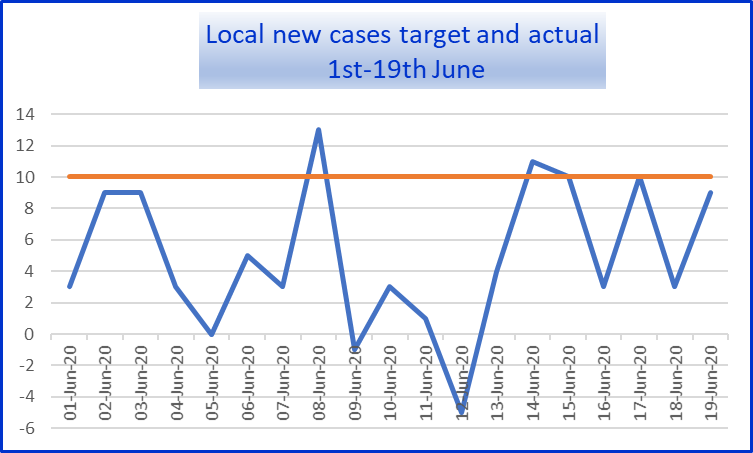 Despite worrying reports around 17-19 about the number of new Victorian cases, analysis shows that the headline numbers include quarantined cases. Hopefully, the spike caused by the Victorian debacle will soon recede (it seems to have flattened by 4th July) and the pattern of the "community" cases being less than 10 per day will continue and equally hopefully, the bureaucrats will stick with their previously stated standard. However, I heard a report that the Commonwealth Chief Health Officer nominated 20 cases per day to be the benchmark.
On the eve of the "Black Lives Matter" demonstration in Darwin on 13th June, the Northern Territory gave a "clandestine" approval for the removal of the 500 persons limit on outdoor gatherings to facilitate the planned demonstration, another example of ideology-based decisions.
It is very easy to see that "the message" has been far more important than the science, with ideology winning hands down over common sense and biological credibility.
Here is the Timeline of 'open' confirmed cases, recoveries, and deaths that I want you to see.
The opinions expressed in this article are my personal opinions and the information that I have provided within the article is, to the best of my understanding, factual. I respect the right of others to have differing opinions. Any errors or inconsistencies are entirely my fault.
Posted By darryl
Updated : 22nd June 2020 | Words : 2065 | Views : 1422
Comments
---
Family Car Rentals
Reviewed
on Google by 192 People. Rated 4.3/5