Travelling Light – Travelling Right!
Successful holiday packing means that you have all the essentials and none of the things that, with hindsight, you would leave at home. So, what you bring with you will vary according to where and when you are going, how long you will be there, who you are with and what you intend to do.
With over 21 years of dealing with luggage issues with our customers, I have seen everything from complete minimalists to contenders for prima donna status. A couple who has rented from us on about 10 occasions for 6 to 10 weeks at a time, (and who have become dear friends of our family), once gave me sage advice about "travelling light, travelling right".
Their advice is that if you have a holiday where you felt you brought too much with you, you can plan for your next trip as soon as you get home.
Divide your luggage items into three different piles:
You used these items quite often
You used these items a reasonable amount
You either didn't use these, or could have done without them
Never again take any item from pile number three on a similar holiday, and cut the number of items in pile number two in half. Ten weeks a year in South East Queensland with one medium suitcase and one carry-on bag each, they truly are expert packers.
Here's some more pointers:
Consider the facilities at your accommodation, an in-room laundry is easier than a resort laundry, which is easier than an external laundromat. If you don't know what your resort has, look them up or call them – check if you can take their pool towels to the beach.
Don't bring any clothing that requires ironing (unless it's unavoidable). Rolling clothing up into a cylinder creates more space than laying the items flat.
Knickers and socks can be washed overnight, even if you have no laundry facilities. If you always wear flip/flops (thongs) or sandals, you don't need a pair of socks for each day.
If you are holidaying on the Gold Coast or elsewhere in the warmer areas of Australia, you will not need any cold weather clothing, a light showerproof jacket will keep you dry and keep the wind out.
Even if you do get wet in sub-tropical or tropical areas, you will not get "wet and cold". Even if there is a cool day or evening, it's much easier to layer an extra shirt than pack heavy jackets or jumpers that you will probably never need.
Don't forget to lock up at home and switch off electrical items at the power point (except your fridge and freezer). It's also a good idea to turn off the water – I have an aunt whose dishwasher hose broke shortly after she left home for a 2-week holiday. She got home to about 15 centimetres of water in every room of her house.
Now, of course it's different if you are not just a couple or you have to attend a function.
Functions will obviously dictate their own requirements, but you can apply some practical strategies for the kid's needs. The Gold Coast is renowned as Australia's holiday capital, largely because the area provides so much entertainment for children of all ages. Swimming pools at resorts, kid's clubs at resorts, beaches, shopping centres, and of course the Theme Parks and other major tourist attractions. This really means that you don't have to bring your entire arsenal of kid's entertainment items from home – just that essential cuddly that they sleep with each night.
An oft quoted truism is that the amount of luggage required by a child is in inverse proportion to the size of the child, 10-year old's need very little, babies require a seemingly endless number of accessories.
The most difficult question for us to answer is whether the car that you select will accommodate all of your luggage. The obvious answer is that we don't know, because we haven't seen your luggage. Your description as a large suitcase, may well be only a medium, or it could be "gigantic". We have compiled information on the luggage capacility of each of our vehicles. If you look up the luggage capacity of your chosen vehicle, by clicking on the vehicle title in our quote section, you can easily work out how well your luggage will fit.
Remember that the manufacturer's measurement is the void within the boot. Converting this to suitcases, it's best to think in terms of about 70% of the manufacturer's stated capacity, or if you have soft bags, 75-80%. So a stated capacity of (say) 430 litres will give you about 300-340 litres of luggage.
Here's a chart by which you can measure your own bags:
Small carry-on suitcase

– 48cm capacity up to 40 litres

Large carry-on suitcase

– 55cm capacity up to 45 litres

Extra large carry-on suitcase

– 56cm capacity up to 50 litres

Medium checked-in suitcase

– 68cm capacity up to 75 litres

Large checked-in suitcase

– 74cm capacity up to 117 litres

Extra large checked-in suitcase

– 85cm capacity up to 130 litres
So, you should be able to get two large checked-in bags and 2 large carry on bags into your luggage area.
Things that are most often overlooked when packing:
Phone or device chargers
Toothbrushes and/or toothpaste
Driver's licences
Itinerary
Things that are most often left behind at the end of a holiday:
Kid's treasured cuddlys
Mobile phones
Tablets or similar devices
Sunglasses
Hats
If you are planning a holiday on the Gold Coast and you have children under 7yrs of age, here's our profile on the 56 car rental companies on the Gold Coast.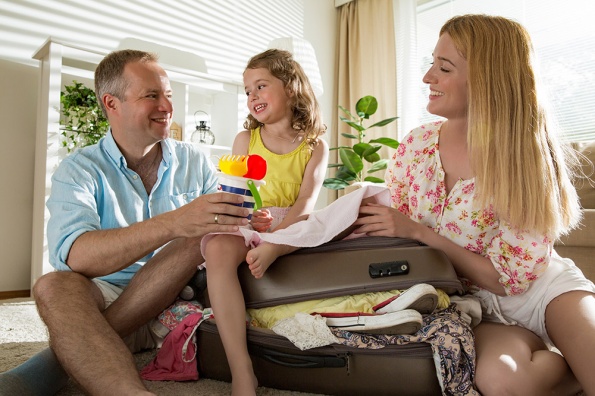 Want to leave your car seats at home?
A full range of car seats and boosters is available free of charge from us and one other rental company.
Forward facing child seats and boosters are available free from one other company (no rear facing seats, no harness boosters).
41 other car rental companies supply them at charges varying from $14.00 to $93.00 per seat for a 7-day car hire. 12 companies do not provide any car seats.
Will you bring your own pram?
We advise you to assess whether your home pram is really suitable for a holiday – yes, you can fit it in the boot at home, but it isn't sharing that boot space with everyone else's luggage.
We have a range of very serviceable prams and strollers that are sensibly sized for people temporarily on the move, ranging from $8.80 for a full week's rental, 3 wheelers are just $16.50 for up to a week and then $1.65 per day, or a combined capsule and pram (the baby can blissfully sleep when you are in the car, or whilst you are wheeling her/him around a shopping centre, or when you are back at your accommodation, all without any transfer disturbance) – this package is just $27.50 for a week, then $2.75 each subsequent day. We know of only two other rental companies that have any prams available for their customers.
What about other items?
Portable cots and high chairs are also available from us at very moderate prices, the alternative is to bring your own or get them from your resort or a specialist supplier.
Portable cots from us are $19.25 for a week, $45 elsewhere
High Chairs from us $7.70 for a week, $25 elsewhere
When you are going home – if you have an afternoon flight, you are welcome to bring your luggage to our office any time after 8am and we will store it for you and load it into our transfer bus to take you back to the airport at your appointed time (just another little thing that sets us apart from other car rental companies). In the meantime, you can continue to enjoy your holiday, without riding shotgun on the car to protect your luggage.
Posted By Darryl Essington-Wilson
Updated : 3rd March 2023 | Words : 1315 | Views : 4465 | Comments : 1
1 Comment
1)
Great article. I'll keep it in mind these holidays.

Thanks for the advice.
Posted By Natalie on Friday 14th December 2018 @ 15:31:09
---
Family Car Rentals
Reviewed
on Google by 192 People. Rated 4.3/5