Holiday Hints
Ideas for Planning Your Ideal Family Holiday
This section of our blog aims to give you some ideas to ensure that your next family holiday will be minimum stress and maximum value.
In coming months, we will progressively add new posts to this section, some will come from our experience with tens of thousands of holidaying customers, some will be from our own personal holiday experiences and others will be contributed by our customers or other people who wish to pass on a tip or two.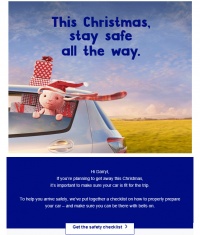 On 12th December 2018, I received an email from NRMA Insurance with the subject line "Darryl, is your car ready for Christmas?" The email contained the graphics shown below. My house is insured by NRMA, but my car isn't, but I still thought that it was a nice gesture which read: The message inside was quite basic, with 5 little tips on what to check on your car before you go taking off on an annual holidays drive. It made me think about what we do to every one of our rental cars, prior to every rental, no matter how short or long the rental is to be. I thought that if the NRMA tips were a timely reminder to ensure the roadworthiness of your car before you travel any distances, perhaps our pre-rental routine would serv . . .
Posted By darryl on Friday 14th December 2018 @ 13:23:20
Updated : Friday 14th December 2018 @ 14:13:12 | Words : 761 | Views : 3243 | Comments : 0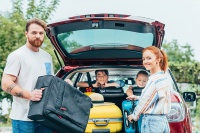 Travelling Light – Travelling Right! Successful holiday packing means that you have all the essentials and none of the things that, with hindsight, you would leave at home. So, what you bring with you will vary according to where and when you are going, how long you will be there, who you are with and what you intend to do. With over 18 years of dealing with luggage issues with our customers, I have seen everything from complete minimalists to contenders for prima donna status. A couple who has rented from us on about 8 occasions for 6 to 10 weeks at a time, (and who have become dear friends of our family), once gave me sage advice about "travelling light, travelling right". Their advice is that if you have a holid . . .
Posted By Darryl on Friday 14th December 2018 @ 12:59:56
Updated : Wednesday 14th August 2019 @ 02:39:56 | Words : 1315 | Views : 3321 | Comments : 2
Post Topic
You must be registered to submit a post within the Family Car Rentals Blog. If you are already registered, please login. Alternatively, register now for FREE.
---