Gold Coast Family Car Rentals
Gold Coast Family Car Rentals is owned by Darryl & Denise Essington-Wilson and our middle son Grant. We completed our first 16 years of operation on 20th July 2017.

Grant is now in charge of rental operations and I (Darryl) am moving to embrace the "social media" and to develop new business opportunities.

In the coming weeks and months we will post articles which we hope will be of interest to people who are contemplating a holiday on the Gold Coast (whether they want a rental car or not) and to people who are contemplating renting a car (whether it be on the Gold Coast or not).

We invite comment and contributions for future blogs - I will be setting aside every Thursday to respond to comments and to consider contributions or requested topics.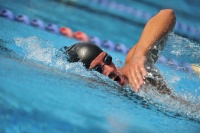 The Games will be held on the Gold Coast from 4th to 15th April 2018 at venues throughout the city and at satellite venues in Brisbane, Cairns and Townsville. Athletes from 70 nations and territories will compete in 23 different sports, many of these sports will include events for athletes with a disability. Locals and visitors can also share in the Festival 2018, an eclectic array of wonderful entertainment and participation for people of all ages and interests. The citizens of the Gold Coast are eagerly awaiting their opportunity to provide the very best of hospitality to visitors from other regions of Australia and from destinations throughout the world. Commonwealth Games competition venues are managed on the basis that access is on . . .
Posted By darryl on Friday 23rd February 2018 @ 20:13:39
Updated : Friday 16th March 2018 @ 12:31:15 | Words : 467 | Views : 134 | Comments : 0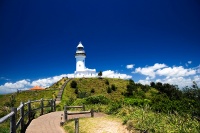 Great Drives – No 1 To: Byron Bay Byron Bay is an iconic and relaxing holiday location in its own right and is well worth a day visit as part of your Gold Coast holiday. Points of interest are: (a) Cape Byron point is the most easterly point of mainland Australia (b) The waters surrounding the lighthouse area are a marine National Park with abundant sea life easily spotted (We stood on the catwalk to the lighthouse for about an hour and saw four turtles, three sting rays and about a dozen dolphins. The dolphins delighted in catching a wave and peeling off the back just as it was breaking – a quick dash back out to sea and onto another wave). (c) The beaches of Byron Bay are world renowned – check out Main Beach; Watte . . .
Posted By Darryl on Friday 21st August 2015 @ 11:12:35
Updated : Tuesday 28th November 2017 @ 13:04:34 | Words : 588 | Views : 1537 | Comments : 0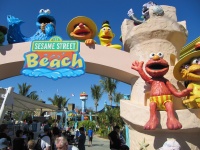 The big ticket item for April is the Commonwealth Games from 4th to 11th April Weather: April continues with milder weather - beautifully sunny but not too hot. You should reasonably expect maximum daily temperatures ranging from 260 to 290 and minimum daytime temperature ranges from 200 to 230 - overnight might get into the highteens. The water temperature at the beach should be about 210. Humidity should be around 50-60%. If you come to the Gold Coast in April, we think that you might get wet, but we doubt that you will get wet and cold. Other matters: The school holiday crowds are here you should expect to encounter crowds at all of the tourist attractions, however the beaches are far more . . .
Posted By Darryl on Sunday 1st January 2012 @ 10:47:28
Updated : Friday 6th April 2018 @ 09:37:42 | Words : 253 | Views : 4167 | Comments : 0
Post Topic
You must be registered to submit a post within the Family Car Rentals Blog. If you are already registered, please login. Alternatively, register now for FREE.
---
Family Car Rentals
Reviewed
on Google by 97 People. Rated 4/5