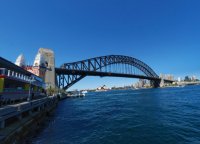 We are proud to announce the appointment of our first independent Franchisee, PITTWATER FAMILY CAR RENTALS, located at Newport in the Northern Beaches region of Sydney.
The proprietors are Dan Chamberlain and his wife Sharee Essington-Wilson (Sharee is my niece).
This is not a case of nepotism - without knowing anything about our franchising plans, Dan and Sharee asked me to give them some advice about the best way to add a car rental profile to their existing successful automotive mechanical workshop, EASY Automotive at 7 Kalinya Street, Newport, near the Newport Arms Hotel.
Pittwater Family Car Rentals will operate from the same premises.
Dan is currently acquiring his initial stock of vehicles and will be ready to commence rental operations around the middle of March 2014.
We will soon be establishing a full profile for Pittwater Family Car Rentals on our website, in the meantime if you would like to contact Dan, please call him on mobile number 0410 502 809.
Posted By darryl on Thursday 13th February 2014 @ 20:56:17
Updated : Friday 25th December 2015 @ 11:14:22 | Words : 167 | Views : 26842 | Comments : 2
2 Comments
1)
Just what the doctor orrdede, thankity you!
Posted By Vishal on Thursday 21st May 2015 @ 21:58:25
2)
Message from darryl
Dan and Sharee bought their first two rental cars from our Gold Coast Family Car Rentals franchise and had the cars shipped by truck to Sydney. The cars arrived at Pittwater Family Car Rentals office at 1pm on Saturday 22nd March and one of them was out on rental by 2:30pm. They have a one month rental for a car starting in early April.
Congratulations to them and I hope that they have many more good news stories in the future.
Darryl Wilson
Posted By darryl on Tuesday 1st April 2014 @ 16:26:06
© Gold Coast Family Car Rentals Since 2011